JIM DUKE, DISTRICT 6600
Jim Duke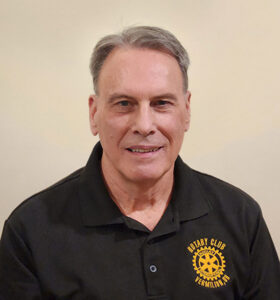 is a member of the Vermilion Rotary Club. Jim held club positions of membership chair, finance chair and the club president for two years. During his term as club president the Vermilion Rotary Club achieved the presidential citation and EREY awards. At the district level he has served as an assistant governor, district conference chair and chief of staff to the governor. Jim has supported or lead numerous local service projects in the Vermilion area. Jim supports the Rotary Foundation and is currently a Paul Harris +4.
Jim is a strong believer in the environment. He's making the environment one of his top priorities during his year as governor.
Jim spent most of his life growing up and living in the Toledo area. Jim and his wife Kristine moved to the city of Vermilion several years ago. Vermilion is a small town located on the shores of Lake Erie. He enjoys summer activities such as golf, boating and travel. Recently on a trip to Vermont Jim hiked up "Camels Hump" the third highest peak in Vermont.
Jim is on the Vermilion Ritter Library Foundation Board which supports the continued growth of the local library.
Jim is retired from the Bp Oil company. During his career he held supervision and leadership roles in several refinery departments. Jim also owned and operated a full-service car wash in the city of Perrysburg.
JULIE BRANDLE, DISTRICT 6630
Julie Brandle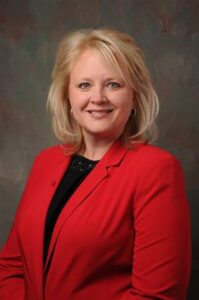 is a past president of the Rotary Club of Akron and currently serves District 6630 as Assistant Governor for Summit S-Medina County Cluster, chair of the District Conference Committee, and member of the Foundation Gala committee. She has also served the District as a facilitator for the Tri-District Membership Event and chair of the public image committee.
Julie is a committed community advocate and currently serves on the boards of Kent State University's Construction Management program, the Portage Development Board (economic development), Akron Civic Theatre, Akron Urban League, Greater Akron Chamber, ABC (Associated Builders and Contractors) Northeast Ohio, and the Rotary Club of Akron. Julie volunteers for Habitat for Humanity, Rebuilding Together, and the Girl Scouts of Northeast Ohio. Julie is a Lifetime Gold Award Girl Scout and holds the adult honors of Women of Distinction and the Thanks Badge.
Julie is a graduate of Cuyahoga Falls High School, as well as Bowling Green State University where she earned a double major in Interpersonal and Public Communication and Soviet Studies and a travel grant scholarship to study in Kiev, Ukraine. She is a graduate of Goldman Sachs 10k Small Businesses, ScaleratorNEO, Leadership Portage County and is currently in Leadership Akron's Class 37.
Julie is the president and a founder of Metis Construction Services, a female-owned commercial general contractor located in Kent. Metis completes ground-up, renovation, and facilities maintenance projects throughout Ohio, along with projects currently in PA, IL, KY, MI, and NY. With over 25 years of experience in sales, marketing, and public relations, Julie oversees these areas of expertise for Metis along with being an integral part of the management team that designs and manages the overall business strategy for Metis Construction.
RICHARD TIRPAK, DISTRICT 6650
Richard Tirpak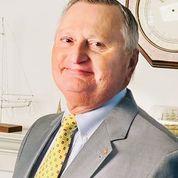 received his B.S. in Zoology in 1971 and his D.V.M. in 1976 from the Ohio State University. He became an associate veterinarian at Stark Animal Hospital in Canton, Ohio in June of 1976. In 1979, he became a partner in the practice and continued serving the interests of his pet owning clients for the next 39 years. In 2017 being the sole proprietor of the multi-man practice, he elected to sell his interest in Stark Animal Hospital LLC. and served as Chief of Medical Staff for Stark Animal Hospital until his retirement in 2018.
Rich has served several terms on the Vestry of St. Mark's Episcopal Church in Canton. He has, as well, served as a member of St. Mark's Finance Committee. "Doc" also served on the Board of Directors of the Stark County Humane Society for five years, serving as President of the Board in his last two year of service. Rich also served on the Board of Directors for Pegasus Farm Equestrian Center.
In 1982, Rich was inducted into the Rotary Club of Canton where he belonged for four years serving on multiple committees. In 1986, he resigned his membership in the Canton Club to become a member of the Rotary Club of Plain Township. Balancing a busy practice and Rotary commitments, Rich served on the Board of Directors multiple times, served as Club Avenue Chairperson and Vocational Avenue Chairperson, and served on various committees including as Chairperson of the Pancake Day Committee and the Rotary Charitable Golf Outing. Rich was proud to serve as the President of the Rotary Club of Plain Township in 2016-2917. He looks forward, with excitement, to continuing his "Service Above Self" as District Governor of Rotary District 6650.
Rich and his wife of 49 years, Marcia, have lived in Plain Township for 40 years. They have two daughters, Ellen Wisniewski, who is an attorney in Maumee, Ohio, and Emily Tirpak, who is an R.N. serving in acute orthopedic surgery at The Cleveland Clinic. They also have two grandsons, Kyle Wisniewski age 16 and Mitchell Wisniewski, age 13.
In his spare time, Rich enjoys golf, reading, watching the grandsons' baseball games, and home projects.
DOUG BUCHY, DISTRICT 6670
Robert Douglas Buchy i
s a graduate of the University of Cincinnati, graduating with a BA in Economics and a Certificate in Business Administration. Following Navy Officer's Candidate School in Newport, RI, I served in the US Navy for over 20 years, primarily as a Surface Warfare Officer. Afloat assignments included the USS Ouellett (FF-1077) as the Boilers Officer and later as the Gunnery Officer; the USS Constellation (CV-64) as the Assistant Weapons Officer; the USS Gary (FFG-51) as the Chief Engineer and the USS Exploit (MSO-440) as the Executive Officer. I also had multiple shore duty assignments. I am a Gulf War I (Desert Storm) Veteran, spending much of the war off the coast of Kuwait. While in the Navy, I received a Master's of Science in Software Engineering from National University, San Diego. Also, during my Navy career, I also served for four years as an Adjunct Professor of Computer Science at Paul D. Camp Community College, Suffolk, VA. I retired from the United States Navy 1 August 2002 as a Lieutenant Commander and I am a life member of the VFW. I work for KBR, Inc, a large 38,000-person multi-national corporation and provide defense contracting support to the USAF. Being in the Navy afforded me the opportunity to visit over 40 foreign countries around the world, and thus becoming a Rotarian was a natural outgrowth from my travels.
I have served my community in many ways. I was elected to the Springboro school board in 2003 and served a four-year term. I am also on the Christmas in Springboro Festival Planning Committee. My Rotary experience began as a member of the Rotary Club of Great Bridge, Chesapeake, VA in 1994. After the Navy transferred me to a joint billet at Wright Patterson AFB, OH, I became a member of the Rotary Club of Dayton in 2002. My father, Robert L. Buchy (deceased), was a member of the Dayton Rotary Club (1982 to 2015) and was a Major Donor. It was a great joy going to Rotary every week with my dad. In 2007, I transferred membership to the Rotary Club of Springboro where I have been President, Foundation Chair, and Treasurer. After being President, I immediately got involved in District 6670 and served as Assistant Governor, District Trainer and various committee assignments. One of the most rewarding positions was serving at All-Ohio PETS, first as a Facilitator and for a 5-year stint as the Facilitator Trainer. Attending PETS was always a source of "Rotary renewal" and it was a pleasure seeing over 260 new PEs every year. I am a Multiple Paul Harris Fellow and Society Member. I look forward to serving as District Governor 2023-2024.
I am married to Elizabeth Ann Signorelli formerly of Brooklyn, New York. We have two grown and married children, Erica (Brian) Coleman and Daniel (Kelsey) Buchy. Erica and Brian have blessed us with three grandchildren, Lance, Felicity, and Connor!
DAVID UHL, DISTRICT 6690
David Uhl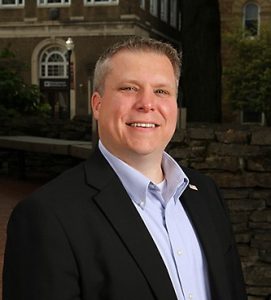 has been a member of the Rotary Club of Lancaster since 2010 (former member of Circleville Sunrise club). David served as president in the 2017/18 Rotary year during the Lancaster club's 100th Anniversary. He has held several positions with the club, including Charitable Solicitations Chair, Program Chair, and Nomination Committee Chair. Uhl started the first ever Paul Harris Fellowship group in Lancaster Club, where members pool their money for a fixed period of time and over that period, each person becomes a PHF. He is a current Paul Harris Fellow and Paul Harris Society member, as well as a current 125 Club member.
David led his club in its Centennial year with record giving in the areas of Foundation and local giving. The club completed 12 service projects that focused on 100 acts of service each month during their Centennial year.
David received Presidential Citation and the coveted Golden Spatula Award from PDG Shane Pyle. He served on PGD Craig Maxey's District Conference Committee, is a past District Conference presenter, a past District Assembly committee member, and a past District Training committee member. He has served as Assistant Governor and as District 6690 PolioPlus/WorldPolio Day Chair.
David is currently serving as City of Lancaster – City Council President. He also serves full time with the FAIRFIELD COUNTY BOARD OF DEVELOPMENTAL DISABILITIES (DD).
David is 42 years old and was born and raised in Lancaster, OH. He has been married to Perla for 20 years and has 2 children, Samantha (12) and Ethan (7). David and his family currently reside in Lancaster.
When not volunteering for Rotary service projects, David and his family have volunteered their time in the Community. David's daughter Samantha started an Early-act (interact for elementary school) club in her school. They are also active in their church, where David is the pastor.
David has several degrees including a Ph.D., M.S., Education, and a B.A., Religion