TIM RYAN, DISTRICT 6600
Tim Ryan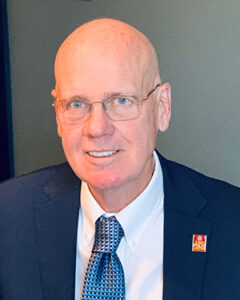 is committed to being the best D6600 Governor (2024-25) he can be. He feels that Rotary has given him many opportunities to make positive changes for himself , his family and his community. Through Rotary, Tim has been able to give back and know that the world will be better for it.
Tim earned his BA and MBA at the University of Toledo. He has lived in Canada, the USA, and Mali. He served in the Peace Corps 2005-07. The first year he taught literacy to adults, the second year he taught English language skills at the ministerial level for the national government. Tim has first hand experience needing and using a Rotary well.
Tim is widowed for more than 20 years. He is happily living with Cindy Allen for the last 10. So far so good. Tim has 4 children, 2 grand sons, and soon a second great grand daughter.
He is a Human Resources Professional with 30 plus years experience from the shop floor to the board room at major international corporations.
Tim thinks environmental sustainability is an obligation to our children. His Rotary projects include, water and sanitation, peace, literacy and health. He is very proud of the collaborations he had with clubs and districts around the world.
He served as President of the Rotary Club of Toledo Ohio, he was District 6600 polio chair 4 times , and has been on 3NIDs in India, Chad, and Nigeria. Tim has worked on global grants and done international needs assessments He volunteered on Rotary projects in Asia, Africa and Central America. He recently served as the first D6600 environmental chair. At the club level he created a club peace committee to reach out to inner city leaders. He sees the need to bring competing and sometimes antagonistic groups together to solve problems. Tim says one of the best things about Rotarians (at their best) is the ability to address difficult problems respectfully. To him the 4way test makes a lot of sense. He is constantly amazed by the power and influence of our organization and the ability of the clubs to innovate.
DALE SMITH, DISTRICT 6630
Dale Smith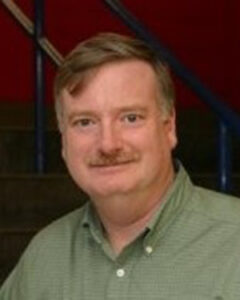 grew up in southeastern Ohio, graduating from Barnesville High School. Dale received a B.Sc. in Ceramic Engineering from the Ohio State University. He has a Six Sigma Black Belt from Sigma Breakthrough Technologies and is facilitator and practitioner of Kepner-Tregoe problem solving and decision analysis. His career began as a process engineer in ceramic tile manufacture and progressed to a very successful career in leading process and quality improvement in manufacturing, including lighting, automotive, building products, label materials and undersea telecommunication systems. Achievements include leading cost projects with significant financial impact including one saving $2,000,000 per year, solving several "intractable" industry issues, developing and successfully implementing a new manufacturing process for lighting products, leading multiple organizations through the development and certification of quality systems, improving spark plug manufacture to meet the voltage demands of electronic ignitions and other projects that remain proprietary to the organizations involved. Dale retired from Avery Dennison in Mentor, OH in 2021.
Dale's service career began with a brief but impactful stint in town government while residing in Epping, New Hampshire, serving on the planning board and budget committee and as chair of the board of fire wards. He also chaired a new high school site selection committee.
He joined the Rotary Club of Cambridge (OH) in 2003 where he served as Club President in 2005/2006. As Dale's career caused moves around the eastern US, he also was a member of the Downtown Macon (GA), Kent, and Camden (SC) Rotary Clubs.
Dale joined the Mentor Rotary Club in 2014 and served as president of that club in 2019/2020. Dale has served many roles in those clubs including leading many service and matching grant projects while also chairing Literacy, Foundation, and Public Image Committees.
He initiated and facilitated the Lake County Sunrise Satellite Rotary Club and is a member of the District 6630 Membership Steering Committee. Dale was twice named Rotarian of the Year and received a District Service Above Self Award. He is a Paul Harris Fellow +3 and a Bequest Society (Level 4) Member.
In addition to Rotary, Dale served as a director of the Family Counseling Center of Central Georgia. He serves on the Barnesville High School Class of 1979 Scholarship Committee which provides a full scholarship to a single annual graduate of the Barnesville High School who attends one to the top universities in the US.
Dale is married to Jeri Ann, a native of Bath, NY. They reside in Newbury, OH on Raccoon Ridge. Dale is an avid gardener and seasonal winemaker and enjoys daily hikes in retirement with Murphy, Quinn and Keeva - the yellow labs that seem to run the household. Dale and Jeri Ann enjoy travel - especially visiting New York's Finger Lakes.
ELAYNE BOZICK, DISTRICT 6650
Elayne Bozick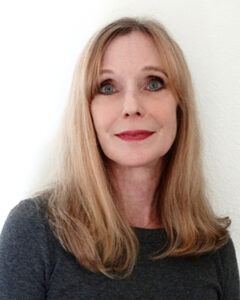 Elayne has been a member of the Rotary Club of Youngstown, Ohio since 1991. She has served in all officer and many committee roles throughout her membership including President in 2004-05 (RCY's 90th and Rotary International's 100th anniversary year), GSE Team Leader to the Philippines in 2011, and Club Foundation Chair. Elayne introduced to the Club and currently leads the Little Free Library/ Literacy Project and Operation Pollination Mahoning Valley Watershed initiative. She is a member of Environmental Sustainability Rotary Action Group (ESRAG) and an Operation Pollination Global Ambassador.
At the District level Elayne serves on the Rotary International Foundation (since 2012) and Annual Fund committees. She chairs the District's Alumni, and Membership committees. She has attended the Rotary International conventions in Osaka and Chicago. Elayne is a Sustaining Member, PHF x 3, Benefactor, and member of the Bequest Society.
Elayne is an alumna of Youngstown State University. She graduated Summa Cum Laude with a degree in Fine Arts, with post-graduate work at Kent State University.
She came to Rotary as a graphic design business owner while also teaching at Youngstown State University in the Art Department and supervising a technical Writing Lab in the English Department. She added career options by obtaining licensing in life and health insurance, financial securities (Series 7 and 66), and real estate. She has experience in business transfers, commercial and residential property sales. She currently works with Berkshire Hathaway Stouffer Realty with Professional Property Stager (PPS) and Senior Real Estate Specialist (SRES) designations. Rotary has been a constant in her life through all.
Elayne believes in the ideal of service. Within her community she sits on the board of Mahoning County Soil and Water Conservation District as Chair, the Mahoning Valley Historical Society as Community Engagement Chair, the Coitsville Township Zoning Board of Appeals, the Coitsville Ladies Auxiliary, she co-chairs the YWCA's "Women's Art – A Celebration" committee and is a member and past Treasurer of the Mahoning Valley Watercolor Society.
Elayne is a master gardener "trying to restore habitat one square foot at a time". Her art interests include watercolor, acrylics, alcohol inks, photography, ceramics, and collage. She has been featured as an "Artist of the Month" in Trumbull Area Artists; she had a one-woman show at the Nissan Gallery in Warren, Ohio; and has won several art awards and recognitions. She is an avid reader and yoga practitioner. She and her husband Lawrence live in historic (home of William Holmes McGuffey "America's School Teacher" and author of the McGuffey Readers) Coitsville Ohio where they continue to renovate their home and "work in the garden".
DOTTIE MEADE, DISTRICT 6670
Dottie Meade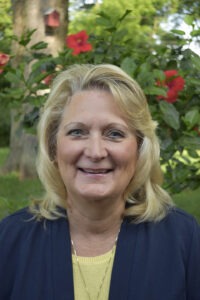 is a retired educator after spending 39 years as a teacher, Career Development Coordinator, and administrator. Her classroom experience has been with grades 5 and 6 in a self-contained classroom and in middle school and junior high teaching reading, language arts and social studies. She spent 17 years traveling throughout Greene County working with kindergarten through high school students and teachers creating opportunities for students in their career planning process. Those experiences were made more enhanced because of the partnerships she developed with local businesses.
Dottie spent 7 years as an administrator at Greene County Career Center, supervising many of the career technical programs and academic classroom teachers. She helped to develop Tech Prep partnerships with Sinclair and Clark State. Her last 5 years as an educator were spent as the Executive Director at Fairborn Digital Academy, an on-line drop out recovery school.
During Dottie's days with Career Development, she was an active member of the Career Education Association (CEA). CEA was the statewide organization developed to support Career Development processes throughout the state. Dottie held the offices of President and secretary for CEA, and was chair for the CEA statewide conference committee for several years.
Dottie joined the Rotary Club of Fairborn in the fall of 1990. From 1990 until 2007, she worked closely with the schools in Fairborn integrating the 4-Way Test, vocational service and the Rotary ideals. In 2004, Dottie met Andy Shoup and later that year, The Andy and Elmer Apple Dumpling Adventure was first written. Andy and Elmer teaches the 4-Way test to young children. Since then, with Andy's help, a second book has also been published. Becky and Lin's Apple Orchard Park teaches the ideal of service above self.
Shortly after the first book was published, Dottie became a supervisor at the Greene County Career Center where one of her responsibilities included lunchtime cafeteria duty. In order to meet her responsibilities, she was forced to take a 6 year break from Rotary. In 2013, she retired from the Career Center and returned to Rotary. She was president of the club in 2014-2015.
During the last several years, Dottie has been trained as a Rotary Leadership Institute (RLI) trainer and then became the District Coordinator for RLI for the past 5 years. Dottie has multiple Paul Harris Fellows and Alan has one as well.
Dottie is married to her best friend of 38 years, Alan Meade. Together they have 3 adult daughters and 2 grandchildren. She considers herself very blessed that her children have all found good mates, have good jobs, and all live close by.
GARY BAKER, DISTRICT 6690
Gary Baker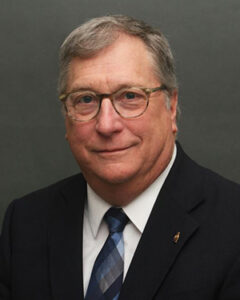 has a Bachelor of Arts, Political Science & Business Administration, from Otterbein College (now University). He owned and operated Baker Media Solutions – a video/multi-media production company from 1985 until 2010, providing professional video production services to central Ohio businesses. In September of 2012, Gary joined the Energy Cooperative as Director of Marketing & PR and is a 2017 graduate of NRECA's Management Internship Program (MIP). In June of 2019, he was assigned additional responsibilities at the cooperative when named (interim) Director of Member Services.
Gary is active with the Newark Midland Theatre Association Board of Trustees serving as president from 2020-2022 and he is a board member of the Licking County Board of Developmental Disabilities. Gary has been a member of the Newark Rotary Club since 1987. He served as club president in the Rotary year 2011-2012.
Gary lives in Newark with his wife Julie and his daughter Meredith, a recent graduate of The Ohio State University.