MARY AUFDENKAMPE, DISTRICT 6600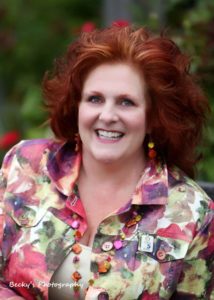 Mary AufdenKampe was invited to join the Rotary Club of Avon Lake, Ohio in October of 1988 and is proud tohave been among the first women inducted into Rotary in the United States. She was one of only 4 women serving as President in District 6600 in 1992-93. Since 1998, Mary has been a proudmember of the Rotary Club of Oberlin and served as President in 2014-15. She has many years of perfect attendance both in Avon Lake (now known as the North Coast) and in Oberlin.
Mary has served in several roles at the District level including: District Vocational Service Chair, District Governor Nominee Committee Member, District Club Service Chair, Assistant Governor, District Group Study Exchange Chair, District Student Counselor for Youth Exchange, and District Alumni Chair. Mary also supports M.E.S.A. ( Medical Equipment Supplies Abroad) and enjoys working with others on International Service Projects. Mary was instrumental in grant writing and coordinating projects with other Rotary Districts to fund a Borehole Well in Zimbabwe, Africa in 2014-15 and a Milk Parlour Project in 2017-18. In addition, Mary has supported Trees that Feed and Little Dresses for Africa made by Interact Club Students, United Methodist Women Groups, fellow Rotarians and Senior Citizens supporting Rotary without Borders. Mary is passionate about youth programs and has served for over a decade as the Youth Exchange Officer of her Home Club coordinating both short and long term exchanges and S.T.R.I.V.E (Students Taking Renewed Interest in the Value of Education )as Co-Chair in the Firelands School District.
Mary has completed the Rotary Leadership Institute Modules One and Two, attended numerous District Assemblies and District Conferences where she has served as a Facilitator and Presenter over the years. She has attended multiple Rotary International Conventions and is a proud Paul Harris Fellow, Major Donor.
Outside of Rotary, Mary supports numerous community associations including Oberlin Community Services, Oberlin Business Partnership, and the Oberlin Heritage Center. She is active at the First United Methodist Church of Oberlin having served as Council at Large, Lay Member to Charge Conference, Administrative Council, Finance Committee Chair, Staff Parish Relation Committee and Membership Committee. Mary is a strong voice for women, equality and inclusiveness being recognized by the YWCA Elyria as a Woman of Achievement in 2016.
Mary has a diverse professional background beginning in the banking industry from which she is retired after having been associated with 2 banks in the Pittsburgh market and Lorain County Bank. She also worked in the fashion industry and as a substitute teacher, a licensure she continues to hold in Ohio. Mary holds an Associate Degree in Fashion from the Wheeler School, a Bachelor of Arts in Management from Seton Hill University, and a Masters in Business Administration from Tiffin University.
She and her husband Gary, a Charter Member of District 6600 Ohio Pathways E-Club, enjoy spending time traveling abroad and dining out. They also enjoy spending time with their 3 adult children and 3 grandsons often sharing Rotary experiences with them.
LAWRENCE LOHMAN, DISTRICT 6630
Lawrence Lohman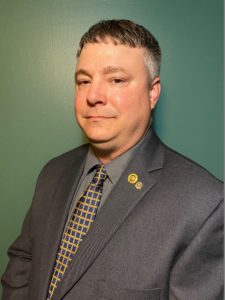 has grown up in the service of Rotary and his community. He helped his father's Rotary club (Cambridge, Ohio) with service projects and fundraisers. The Cambridge Club has had three generations of Larry's family as members, including his great-grandfather, a founding member of the club. Larry also served with The Boy Scouts of America where he earned his Eagle Scout Award, his Church Youth Group, and as a volunteer with the American Cancer Society.
He has been a member of The Rotary Club of Kent since 2007 and has served as International Services Chair, Program Director, President-Elect and President. He also led the charge to identify ways to better inform the community about Rotary.
He has been a member of the Rotary District 6630 Grants Committee for over eight years. Larry has been involved in writing, fundraising, and administering several global grants. His club has been involved in providing clean water systems to villages in El Salvador for over 20 years. After attending a Rotary delegation trip to El Salvador, Larry came to fully understand the importance of water and the global grants that make it possible. In 2019 Larry headed a water project in El Rodeo, El Salvador that brought clean water to a village of 65 families. This village never had clean running water and had been walking about one mile to obtain polluted water.
In 2014-15 Larry administered a global grant in the form of a scholarship for a young man by the name of Dennis Kirimi. Dennis was from Kenya and wished to attend Kent State University to earn his master's in Public Health. Dennis is currently finishing his Doctorate in Public Health.
Over the past two years Larry has brought a focus of Youth Services to his club which has sponsored a new Interact Club and has begun participating in Rotary Youth Exchange. Larry headed up the revitalization of the Kent State Rotaract Club which now is run alongside a financial organization through the Kent State School of Business. He also envisions creating a mentorship program between the Club, and local young professionals' organization.
For the past fifteen years Larry has worked in the Locksmith and Security field, currently as a Project Manager for Zenith Systems. The one thing that always makes Larry smile is his family. Larry has two beautiful and talented teenage daughters.
STEPHAN WILDER, DISTRICT 6650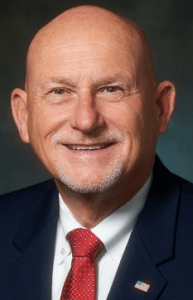 Stephan B. Wilder began his esteemed law enforcement career with the City of North Canton in 1981as an unpaid auxiliary officer, and in 1983 he was hired as a part-time patrolman. His full-time service to the citizens of North Canton began in 1986 when he became a full-time patrolman, followed by his appointment to Lieutenant in 1996, and finally Chief of Police in May 2011. Stephan's exemplary years of service have been characterized by hard work, dedication and strong sense of community.
Earning his Bachelor of Arts degree in Criminal Justice Studies from Kent State University, Stephan went on to obtain a master's degree in Criminal Justice Administration from Tiffin University. His education also includes the Northwestern University Center for Public Safety School of Police and Command and the Ohio Police Association of Chiefs of Police Executive Leadership College. He was honored at Northwestern University with the Franklin M. Kreml Leadership Award (honor given to a student who best displays the dedication, devotion, ethics, sense of justice, and other professional values that exemplify the kind of leadership needed in law enforcement community), and by Plain Local Schools Foundation and Alumni Association Hall of Distinction. In addition, Stephan has been the recipient of countless other awards, and was most recently appointed as District Governor Nominee 2020-2021.
After retiring from the North Canton Police Department in 2017, Stephan continued to serve the community in many civic and professional organizations such as the North Canton YMCA, North Canton Area Chamber of Commerce, Junior Achievement, Rotary Club of North Canton Ohio where he will serve as District 6650 Governor in 2021-2022, the Ohio Association Chiefs of Police, the International Association of Chiefs of Police, Stark County Police Chiefs Association, and Boy Scouts of America, Buckeye Council.
In addition to participating in all these organizations, Stephan still felt a strong desire to serve in an even greater capacity. And in early 2019, he began campaigning for his current (and perhaps proudest) role as Mayor of the City of North Canton, taking the oath of office on December 1, 2019 at the stroke of midnight. He and his wife Mary will be married 40 years in July of 2020.
Mayor Stephan B. Wilder's vision and goal for his beloved City has remained constant throughout his life: making North Canton a better place to live work and grow. His desire is to foster a community where people unite and create a positive and lasting change in the community.
CAROL HUGHES, DISTRICT 6670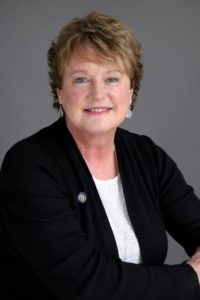 Carol Hughes was born and raised in England, and after 15 years in the elementary classroom, Carol and her family emigrated to Ohio in July 1993. After 16 years with the YMCA Carol changed careers in 2010 and was offered the opportunity to lead the Springboro Chamber of Commerce.
Carol has excelled in building community relationships and working in all aspects of membership and program development. Chamber work involves building relationships and developing partnerships, and Carol uses her skills and experiences with the Springboro Chamber of Commerce to further the economic growth and business development in the heart of Springboro.
Carol is a devoted Rotarian, a member of the Springboro Rotary Club for the past 14 years. In July 2021, Carol will become Rotary District Governor for District 6670, leading the 48 Rotary clubs in southwest Ohio. Service above self is the motto of Rotary and Carol lives by this every day.
Carol lives in Springboro. Her four adult children live in Indianapolis (Russell/Lindsay), Centerville (Adam/Kelly), Springboro (Kelly/Curtis) and Hamilton (Daniel/Emily). She has two grandsons, Camren (12) and Corwin (8) and two grandaughters, Mclayne (5) and Evie (2).
MARYJANE SHACKELFORD, DISTRICT 6690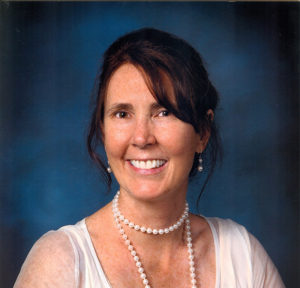 Maryjane Shackelford joined Rotary in 2007 becoming a member of The Rotary Club of Zanesville Daybreak. She has served in a number of committees throughout her Rotary career including Public Image Chair, World Community Service Co-Chair, Rotary Youth Exchange Officer, and Sargent-at-Arms. One of her proudest moments was becoming the Club's President, serving during the Rotary year of 2015/2016. During her term as President, The Rotary Club of Zanesville Daybreak received the Gold Presidential Citation issued by PRI President K. R. Ravindran. In addition, Maryjane was named Rotarian of the Year in 2010/2011 and received the "Bebe Grant" Service Above Self Award in 2017/2018.
On the District level, Maryjane has served as Public Image Chair, Co-Chaired the 2017/18 District Conference and proudly served as Assistant Governor to five clubs from 2017 until 2020. She also served as Assistant Governor Coordinator in Rotary year 2019/2020. Maryjane is a multiple Paul Harris Fellow, Paul Harris Society Member, 125 Club Member and a Bequest Society Member.
Professionally, Maryjane is the President and Co-Owner of Barnes Advertising Corporation in Zanesville, Ohio. Barnes Advertising is 5th generation family owned Outdoor Advertising business with 598 faces in fifteen counties throughout Southeastern Ohio and Pennsylvania.
Along with being committed to Rotary, Maryjane is also extremely active within the Zanesville community. She has served on the Boards of the Muskingum Family Y, Muskingum County Incubator and Zanesville Downtown Association. She also served on the United Way of Muskingum, Perry and Morgan Counties Allocation Committee for seven years and was a member of the Zane State 50th Anniversary Steering Committee. Currently, she is serving as a member of the Women of Achievement Planning Committee and is serving as a Board Member of the Muskingum County Community Foundation.
Maryjane is a past Women of Achievement recipient, receiving The Mary Vasht Jones Funk Business Award in 2007. In addition, she was named an American Red Cross Hometown Hero in 2016 and she was named a Community Service Honoree by the Zanesville Jaycees in 2016.
Maryjane is married to one of the most amazingly talented and creative people on the planet, Jeff Shackelford. Between the two of them, they have four children and two grandchildren. Maryjane and Jeff reside in Zanesville with their six fur babies (cats).
His wife, Karen, to whom he has been married 40 years, is the Vice President of Education at Nationwide Children's Hospital in Columbus. Their eldest child, Bill, his wife Nora, and son, Marvin, live in Oakland, California; Ken, their next eldest, lives in Tokyo, Japan with his wife, Sofia, and their two sons, Lorenzo and Maxi; and their youngest, Blair, and her husband, Chris, reside in Brooklyn, NY and Bradley Beach, NJ.